Why you should own a restaurant franchise with the Sankalp Group
"We strive to set benchmarks in various aspects of our businesses in Food, Hospitality, Hoteliering, and Real Estate," asserts Dr. Kailash Goenka, Chairman & M.D. Sankalp Group. 
Isn't this statement and confidence of our headship strong enough to ring the bell with you as to 'Why choose Sankalp Group for a restaurant franchise?' But then we are here not to boast of who we are, but rather share the strong aspects of the Sankalp Group Restaurants to enable you towards buying a restaurant franchise.
When we speak of a food franchise India, we aim at not just giving you a finger-licious experience with your dear ones, but also a world-class ambience, an experience that is top-of-the-tops and also an architecture that oozes India from every angle! After all, an India restaurant food franchise is all about incredible India!
Taking the Indian restaurant franchise talk further, we showcase our top four restaurants to assert the 'Advantages of a Restaurant Franchise with the Sankalp Group.'
1. Sankalp Restaurant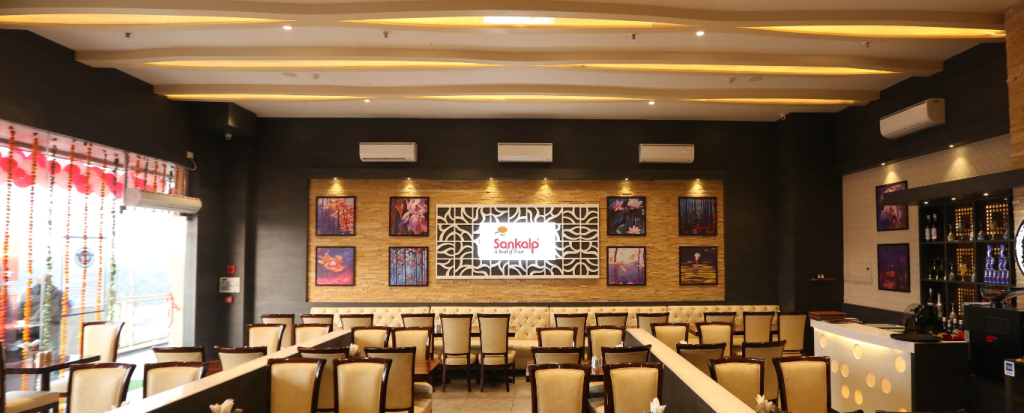 Did you know that this chain of Sankalp Restaurants already has 251 Restaurants world-wide and counting? And we are waiting for you to be the next Indian restaurant franchise with us. Why? Take a look at one of our Restaurant franchise associates, he has to say:
View this post on Instagram
And why would not just the patrons but also the customers take pride in an association with us? After all, we are taking South India and its amazing cuisine to their countries!
Be it the NRIs or the Indian Restaurant food franchise owners or for that matter the offshore food connoisseurs, each one has an experience of South India to take back, when they visit us in any part of the world.
Start Your Own Sankalp Restaurant
2. Saffron Restaurant
Established in 2001, the Saffron Restaurant food franchise brings to your table the essence of the traditional North Indian cuisine. So much so that we take pride in claiming – ''Saffron has become synonymous with Authentic Vegetarian Barbecue & North Indian Cuisine.'
View this post on Instagram

Did you know that it is the Sankalp Group that came up with the unique " do it yourself " concept in dining? Yes, we are class apart and we customise dining to suit the mood of our food connoisseurs.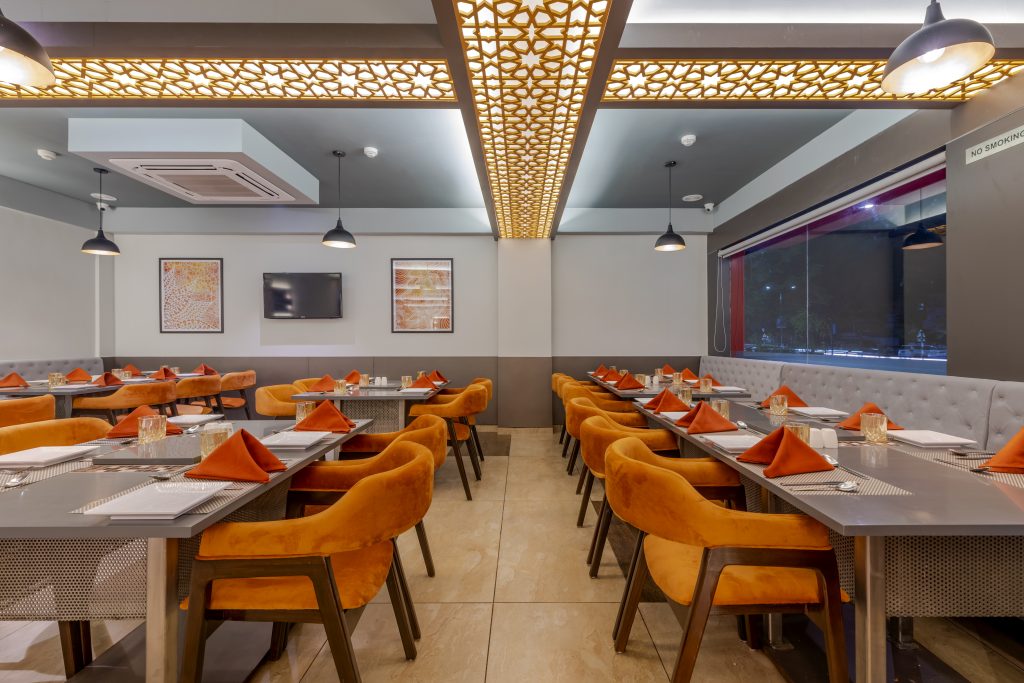 We might just be a Food franchise India, but due to the dining experience we are already getting offers to spread our wings abroad.
Start Your Own Saffron Restaurant
3. Sam's Pizza
Unlike its name this chain of restaurants is an amalgamation of food culture and we claim it as an ideal getaway to 'a world of Italian- American flavours.'
View this post on Instagram
Dr. Goenka launched Sam's Pizza with a Pizza bouquet – a concept that is known to the generation Z today, but was his brainchild ages ago. The bouquet still has sumptuous soups,healthy salads, yummy garlic bread and our trademark brownie at pocket friendly prices. The only thing that's different now is that the Menu is so vast to choose from, that you will take a good time to decide!
Since 1999, our expansion and sustenance in the market amid the toughest competition, endorses our winning brand among restaurant food franchises. 
Start Your Own Sam's Pizza Restaurant
4. Sphere Lounge
As the name suggests, this restaurant franchise is a place to lounge, to chill, to beat stress and dip your fingers into exquisite food that comes to your platters straight from the local farms.
Not an Indian restaurant franchise, but that of a continental cuisine which aces above all in the industry. Take a look at what our diners have to say.
Advantages of a restaurant franchise with Sankalp Group
1. A Well Established Name
Needless to assert that when you join hands with us towards Food franchise India, you get our name and credibility as an asset and our warmth too.
2. Training and Support
Restaurant food franchise business with the Sankalp Group means we help you skill your staff to meet the excellent standards of the Sankalp Chain of Restaurants.
3. Growth
You grow your Indian restaurant franchise as we grow as an organisation with ethical policies. It is like the growth of a Banyan tree. And we ensure that our consistent support helps your restaurant food franchise business grow like the luscious, blossoming branches of our main tree, through the year!
4. Minimal Risks at Less Capital Investment
Buying a restaurant franchise saves the Franchisor a generally monstrous measure of capital venture expected for setting up an outlet. It reduces the operational cost and chances of taking loans, thereby reducing the risk to reach the break-even point.
5. Goodwill
We have great goodwill not just in India, but in global food markets as well. So when you are buying a restaurant franchise with Sankalp, this comes along. All you need to do is maintain excellent standards to strengthen the same.
The support that we lend after restaurant franchise
When you join hands with the Sankalp Group, you not only increase your sales and profits, but also become an important cog in the employment zone by providing daily bread to scores of people. Isn't that a great feeling? Beyond this we also help you with:
1. Brand Identity
You don't just the Sankalp Group's brand identity, but also with it comes our excellent credibility and global trust.
2. Publicity & Advertising
We help you via suggestions towards Public, Media and Social Media relations along with giving you strong advice towards a mutually beneficial advertising strategy.
3. Quality Check Audit
Quality check suit team from the Sankalp Group head office in your region will visit you as per schedule (weekly or fortnightly) communicated to you in advance. The restaurant franchise owner must ensure high quality standards that we stand for – not just in our food quality, but also the ambience that includes no breakage in furniture, properly functioning lights and air conditioning, clean and hygienically maintained kitchen, etc. 
4. Excellent Quality Food Material
When we speak of a food franchise India or abroad, we supply your outlet with 80% freshly pre-cooked food; rest of it our trained chefs will toss up at demand like the Indian breads or say Pizza. We also supply you with the daily basic grocery, etc needs of the restaurant franchise. 
5. Less Food Cost 
When you have most of the things pre-done by our main Chef Supply, it means no wastage of food, no left-overs, plus no hassles to procure groceries, vegetables, etc from a retail outlet. In short, our wholesale and wholesome production of food ensures you less food cost and more ROIs. A win-win situation for any food franchise India, isn't it?!
6. Man Power Support
Where do you go to pick the man-power? Well, you don't go anywhere! Yes, we call it the most important factor among all the advantages of a Restaurant Franchise with the Sankalp group – right from your sales counter manager to store manager to your Chef, your stewards/stewardesses, your house-keeping staff – we provide all the basic manpower your Restaurant food franchise needs. 
7. Recruitment & Training
Not just manpower for your India food franchise, we also train them to adopt the latest skills and lend you the marketing support. It ensures a uniform quality of services throughout our franchises and also helps you grow by learning the nuances of the trade to sustain in this burgeoning sector.
8. Software & Backup
We have an AI-integrated software system with an excellent backup and cyber security which not only ensures a smooth working of the restaurant (its billing, its deliveries etc), but across the globe also keeps the customer data safe.
As per current statistics, the Food franchise India business is expected to multiply back to pre-pandemic levels and get you great returns. So do write to us for a collaboration.